A Journey Into the Depths of a 4096 Bytes Production
David Valentine (Polaris / Northern Dragons) and Beausoleil Samson-Guillemette (BarZoule / Northern Dragons)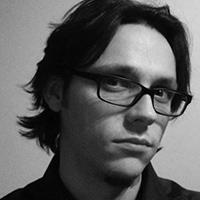 In an era when disk space is measured in terabytes, some people still try to optimize programs for size. 4KB intro developers combine digital artistry and technical ingenuity to bring to life productions full of graphics and music, all wrapped into a program measuring in at only 4 KB or less.
In this dynamic presentation, BarZoule and Polaris will discuss the art and the science of creating 4kb intros. The audience will get a one of a kind behind the scenes view as we journey through the creation of the 4kb intro W4K3D, winner of @Party 2012.
Each speaker brings their own perspective to the creation process, to give you a true sense of the various aspects of intro conception, design, creation and realization. Not to be missed by people who enjoy unusual technical feats of beauty.
Having started making games at the age of 15, Beausoleil quickly learned any new skill set as required. Strong believer in DYI and self-teaching, he's now a game designer during the day, and makes demos at night. Demomaking allows him to play with any tech area he likes. From fitting a drum'n'bass music in a couple of bytes, to 3d modeling or coding software renderer for ASCII output. He also runs the annual Text Mode Demo Competition and the Recursion demoparty in Montréal.
Polaris is the founder, organizer and a coder for the Northern Dragons demo-group. Since 2001 the group has created demos, and intros and more for events all over the world. In 2005, Polaris co-founded the web portal "in4k" which remains one of the top go to technical resources for 4k intro development.